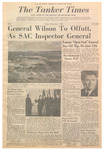 Title
Description
Includes:
-- an aerial photograph showing progress on the Capeheart housing project
-- Commendation medals were presented to six Dowmen by Col. George W. R. Zethren at ceremonies in Wing Headquarters. The officers and men, three from Air Base Group Headquarters Squadron and three from the 341st Air Refeuling Squadron are, left to right: MCgt. Edward V. Fitzpatrick, wing sergeant major; SSgt. William A. Williams, 341st ARS; Edward F. Bobrovicz, ABG; SSgt. Chester A. Cocha, 341st ARS; Maj. Michael J. McKenna, provost marshal; and Maj. Jim V. Alexander, 341st ARS commander (includes photograph)
-- Marjorie Rogers contributes "Officers Wives Club Notes"
Publication Date
5-1-1959
Publisher
Dow Air Base Personnel
Keywords
Bangor Maine, Dow Air Base, Bangor Maine Air Refueling Wing, Capeheart neighborhood Bangor Maine
Recommended Citation
Dow Air Base Personnel, "May 1, 1959" (1959). The Tanker Times. 4.
https://digicom.bpl.lib.me.us/tankertimes/4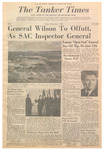 COinS