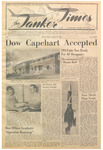 Title
Description
-- Headline: 194 Capehart Units Now Ready For AF Occupancy --- Suddenly! Good News. The acceptance inspection of Capehart Housing is progressing in a satisfactory manner. The purchase date for the housing units has been set for 2 September 1959. The first families will be able to move in on 8 September 1959. Every effort has been made to match the family with the apartment, two or three bedroom apartments as required.
-- Page Two shows blueprints for the Capehart apartments as well as detailing the selection process for those being awarded a Capehart apartment.
-- Faulty picture tube is replaced in a television receiver at Personnel Services newest Hobby facility, the Electronics Hobby shop. Equipment is on hand to help you check radio, TV and high fi equipment and discount prices are offered on replacement parts. NCOIC of the shop Tsgt. Lowen Perkins is on duty at the shop from 5: 30 till 9: 30 p. m. each evening at 9 till 1 on Saturday (photograph).
Publication Date
8-21-1959
Publisher
Dow Field Personnel
Keywords
Bangor Maine, Dow Air Base, Bangor Maine Air Refueling Wing, Capehart neighborhood Bangor Maine
Recommended Citation
Dow Air Base Personnel, "August 21, 1959" (1959). The Tanker Times. 26.
https://digicom.bpl.lib.me.us/tankertimes/26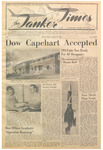 COinS