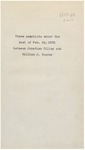 Description
Contemporary documents which detail the feud between United States House of Representative members Jonathan Cilley, of Maine, and William J. Graves, of Kentucky. Cilley had spoken unfavorably on the floor of the House of James Watson Webb, publisher of the New York Morning Courier and Enquirer, concerning Webb having flip-flopped (because of $52,000 payment) on the issue of whether the Second Bank of the United States should continue operation.
Webb gave a letter to his friend, Rep. William Graves of Kentucky, demanding an explanation or an apology of Cilley. Cilley explained he had not meant to impugn Webb's reputation, but the explanation failed to satisfy either Webb or Graves. Unable to reconcile, a duel was decided upon, with Graves standing in for Webb.
After a few rounds of firing, Cilley was struck in the leg, piercing his femoral artery. He died moments later.
This ordeal outraged the Congress and much of the country, leading to Congress outlawing dueling in the District of Columbia in 1839 and a decision to expel from Congress any member who later took part in a duel.
Includes:
Report of the Committee on the Late Duel (1838)
Discourse, Occasioned by the Recent Duel in Washington by Henry Ware Jr. (1838)
Doctor Sprague's Sermon, Occasioned by the Late Tragical Deed at Washington (1838)
Keywords
Jonathan Cilley Maine, William Graves Kentucky, dueling
Recommended Citation
United States Congress, "Three Pamphlets about the Duel of February 24, 1838, Between Jonathan Cilley of Maine and William J. Graves of Kentucky" (1838). Books and Publications. 363.
https://digicom.bpl.lib.me.us/books_pubs/363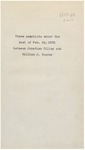 COinS