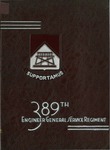 Title
Description
Now the 389th has completed her mission, our use in the service of our country is over. We have seen rivers to cross and have crossed them; roads to be built and they have been made whole; rail-lines to operate and construct and we have done so with a smile even through hardships and in the face of disaster, but our banners have remained unfurled and our spirits have not weakened.
The peace, yea the glorious peace, that comes with Victory is now, ours to behold and adore. Home-town United States of America is now safe from infamous attack by would be aggressors, our shores are safe, the lights are on again all over the world, the sea lanes are clear of U-boats, and our world is again ready to build anew on the principles of the four freedoms: Freedom from fear, freedom from want, freedom from hunger, and freedom from force.
So we can, as we are doing daily, lose the identity of soldiers and resume our civilian activities for a better America and a better world. Still, we will always remember the 389th, for what she has been and will continue to be in our hearts. Keeping always in mind that, if ever, and we pray not, any aggressors or would-be rulers seek to invade our shores, we will rise and in the words of our motto: "Supportamus," we will defend and protect our country's pride. So long fellows and good, smooth sailing.
Keywords
United States Navy, World War 1939-1945, Regimental Histories, 389th Engineer Regiment, Engineering and Construction World War II, 389th General Service Regiment
Disciplines
Military History
Recommended Citation
United States Air Force Academy, "389th Engineers present" (1945). World War Regimental Histories. 78.
https://digicom.bpl.lib.me.us/ww_reg_his/78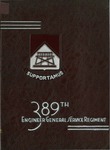 COinS