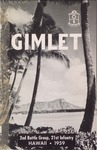 Description
The 21st Infantry Regiment has a long and noble history that goes back nearly 100 years. The Gimlets were organized in 1861 and have been in continuous existence since that time, participating in every major conflict to include World War II and Korea. Throughout the history of this fighting organization the Gimlets have established a reputation as one of the finest units in the United States Army.
In February 1957 the Gimlets returned to Hawaii after a 15-year absence. The cry "Bore, Brother, Rare" is once again heard on the playing fields of Schofield Barracks.
This motto, conceived back in 1921, symbolizes the will to gain victory in spite of all obstacles. This very same spirit, well demonstrated by the 21st Infantry on the battlefields of World War II and Korea, is the credo of the unit in accomplishing its training mission as part of the Strategic Reserve of the Pacific. The 2nd Battle Group of the 21st Infantry is a battle-ready unit standing guard in the Pacific area, ready to answer its country's call.
You Gimlets of today arc upholding well the traditions and standards of your predecessors set at Gettysburg, Santiago, Mindanao, New Guinea, and Osan. Wherever you go, no matter what unit colors you may serve under, you can be proud to have been a Gimlet, remembering that once a Gimlet always a Gimlet.
Colonel Roland M Gleszer
Keywords
21st Infantry Regiment, 2nd Battle Group, Gimlet, Gimlet history
Recommended Citation
United States Army, "Gimlet : 2nd Battle Group, 21st Infantry, Hawaii, 1959" (1959). Regimental Histories. 218.
https://digicom.bpl.lib.me.us/ww_reg_his/218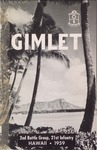 COinS