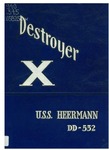 Description
"It was the sixth of July in 1943, she had just been commissioned. Within the course of time she would be called many names, some spoken in anger, some in fear, some in pain; but now she was the U. S. S. Heermann (DD532.) The gods were pleased.
The crew was like the country they served. They came from east and west, north and south. They'd been farmers, students, grocers, salesmen. They were of every color, every creed. We were lucky, there were a few old hands aboard to help build a fighting crew for a fighting ship.
Then came the shakedown cruise. There is nothing under the sun like a shakedown cruise. It's indescribable but it gets results. After that period in San Diego we began to look as if we had "been born on the crest of a wave and rocked in the cradle of the deep." Shakedown gave us forewarnings of things to come and suddenly it became apparent that fighting a war was hard work and lots of it.
On the first of October, after another brief session in the yard, the powers that be decided that the Heermann was ready to go out and win her spurs. So we headed out toward the islands. That last look at the Golden Gate Bridge always seems to be the one that hurts the most. All of us knew it would be many a day before we would be Stateside again, but we were ready-we had the finest ship in the Fleet and the finest group of men alive to fight it."
Author unknown
Keywords
United States Navy, World War 1939-1945, Regimental Histories, U.S.S. Heermann (DD-532), destroyer
Disciplines
Military History
Recommended Citation
United States Navy, "War history of the U.S.S. Heermann" (1946). World War Regimental Histories. 159.
https://digicom.bpl.lib.me.us/ww_reg_his/159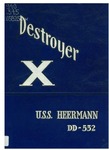 COinS