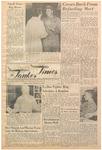 Title
Description
-- Second Lieutenant Frederick M. Johnson, Pilot of a T-33 trainer jet which collided with an F-102 Delta Dagger in the Flagstaff area of Maine. Both aircraft involved were based at Ethan Allen AFB, Vermont, and were on routine training missions. Lt. Johnson ejected and fell into the Maine woods where he spent the night hanging in his chute harness from a tree. Lt. Johnson says that from the experience he has learned to respect the equipment and stated that all the ejection equipment works just as he had been instructed (photograph of Lt. Johnson).
-- A/2C James Wheeler, A/3C Herbert Smith and A/3C Don MacLellan, all of the Dow Fire Department get set for some pre-season basketball practice at Dow's recently opened Gymnasium. One of the finest in SAC, the new building and equipment cost nearly a half million dollars (photograph).
-- Mr. Carl E. Babcock, civilian employe of the Transportation Squadron, receives a check for $65.00 from squadron commander Major J. W. Woodill for a suggestion to improve refueling equipment. Mr. Babcock suggested that a quick coupling be placed on the refueling stub of trailers, attaching the outer half to the defueler hose as a permanent part of the hose. A locking snapover ring could then be used to join the two pieces together, making a leak and fume proof joint, thereby eliminating any fire hazard (photograph).
Publication Date
11-6-1959
Publisher
Dow Air Base Personnel
Keywords
Bangor Maine, Dow Air Base, Bangor Maine Air Refueling Wing
Recommended Citation
Dow Air Base Personnel, "November 6, 1959" (1959). The Tanker Times. 36.
https://digicom.bpl.lib.me.us/tankertimes/36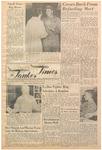 COinS