Preview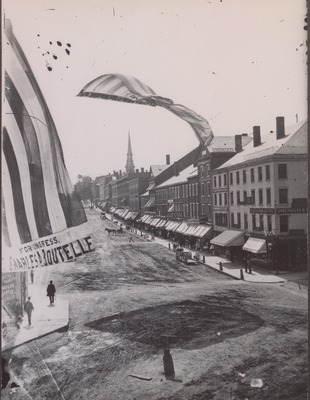 Description
Flag in center reads Cleveland and Hendricks. This would have been a campaign advertisement for the 1884 U.S. Presidential election, which Grover Cleveland won, becoming President, and Thomas A. Hendricks became Vice-President.
The other flag is for Charles Boutelle's campaign for re-election to the U.S. House of Representatives. Boutelle would serve in Congress from 1883 to 1901.
Business seen by magnification include:
Bernard Pol at the corner of Hammond and Main. Pol was a watchmaker.
C.E. Lyon & Co. Carpet Rooms at 14 West Market Square (i.e. 31 Main Street). Owner Charles E. Lyon.
Leighton's Shoe Store at 16 West Market Square (35 Main Street). Albert K.P. and Gilbert L. Leighton owners.
E.J. Davis & Co. at 19 West Market Square (41? Main). Edwin J. Davis and Ephraim H. Hall owners.
Lyon & Reed, crockery and glassware, at 3 Main Street (really about 45-47 Main; the numbering system differed during that era). Edward E. Lyon and George H. Reed owners.
Bangor Savings Bank 1 Main Street (45-47 Main)
Keywords
West Market Square Bangor Maine, Main Street Bangor Maine, Bangor Maine 19th century, Bangor Street Railway
To view larger size: Download and view in your browser
Keywords
West Market Square Bangor Maine, Main Street Bangor Maine, Bangor Maine 19th century, Bangor Street Railway
COinS