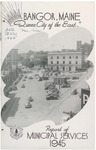 Description
Introduction
On August 11, 1945, forty-four months and seven days after it had started on December 7, 1941, the war which had engaged the full productive capacity of this nation for the past four years ground slowly to an end. The successful conclusion of this war, the outcome of which was never in doubt, was assured when the war in Europe ended with the complete capitulation of Germany on May 8, three months before the startling announcement that atomic energy had been employed to hasten the end of the conflict.
Thus, on August 14, 1945, this country had passed through the first stage of its greatest crisis and had emerged with its courage undimmed, its hope for the future still high, and with unbounded faith in its ability to meet the problems of the future and to turn them into golden opportunities.
Your City of Bangor has emerged from this period saddened beyond measure by the loss of 101 of its citizens who gave their lives in its defense, and today stands in full acknowledgement of its debt to them and to the 4,349 others who offered all they had in our behalf and who, in some cases, suffered irreparable physical and mental damage. It is the avowed intention of your city to erect a memorial that will, for a long time yet to come, suitably commemorate the unselfish devotion of these citizens to their fellowman.
Publisher
City of Bangor, Maine
Keywords
Bangor Maine, history of Bangor Maine, government of Bangor Maine
Recommended Citation
City of Bangor, Maine, "Annual Report, Bangor, Maine: 1945" (1945). City of Bangor Annual Reports. 30.
https://digicom.bpl.lib.me.us/city_ban_report/30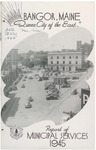 COinS