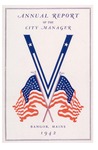 Description
Highlights:
The regular establishment of the police department consists of forty-four officers, and is made up as follows: the chief, 3 captains, 3 inspectors, 4 sergeants and 33 patrolmen. For the period of the war, provisional police have been authorized to replace, temporarily, those regular officers who are serving in the armed forces.
The program of controlling insect infestation in the shade trees of the City is becoming acute and almost constant effort is necessary to effect control. The Gypsy Moth is the most serious pest and the control work begins in the winter by applying a solution to the cocoons. Last year 7,785 of these were treated and destroyed. During the summer intensive spraying is also necessary and last year 1286 trees were sprayed.
Due to the Federal Government restrictions, the city was unable to obtain the usual supply of tar for surface treating streets with the result that a great deal of patching work had to be done and any section of a street in sufficiently good condition to go through the season was left untreated. Normally the city uses about 350,000 gallons of tar and asphalt but last year only about 160,000 gallons were available. For covering the tar we used 3,867 yards of sand and peastone.
Publisher
City of Bangor, Maine
Keywords
Bangor Maine, history of Bangor Maine, government of Bangor Maine
Recommended Citation
City of Bangor, Maine, "Annual Report, Bangor, Maine: 1942" (1942). City of Bangor Annual Reports. 26.
https://digicom.bpl.lib.me.us/city_ban_report/26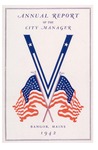 COinS