Title
Preview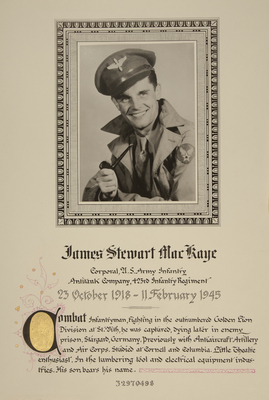 Description
James Stewart MacKaye. Corporal, U.S. Army Infantry. Antitank Company 423rd Infantry Regiment.
23 October 1918 - 11 February 1945.
Combat Infantryman, fighting in the outnumbered Golden Lion Division at St.Vith he was captured, dying later in enemy prison, Stargard, Germany. Previously with Antiaircraft Artillery and Air Corps. Studied at Cornell and Columbia Little Theatre enthusiast In the lumbering tool and electrical equipment industries. His son bears his name.
32970498
To view larger size: Download and view in your browser
Keywords
World War II, Bangor Maine, Killed in action, Veterans
COinS