Title
Preview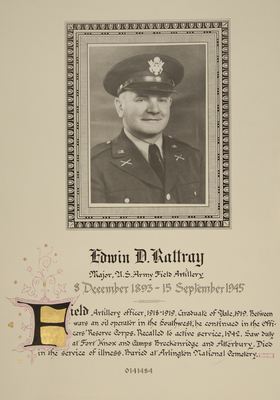 Description
Edwin D Rattray. Major U.S. Army Field Artillery.
8 December 1893 - 15 September 1945.
Field Artillery officer, 1918-1919. Graduate of Yale, 1919. Between wars an oil operator in the Southwest, he continued in the Officers' Reserve Corps. Recalled to active service, 1942. Saw duty at Fort Knox and Camps Breckinridge and Atterbury. Died in the service of illness. Buried at Arlington National Cemetery.
0141484
To view larger size: Download and view in your browser
Keywords
World War II, Bangor Maine, Killed in action, Veterans
COinS
Rights Statement