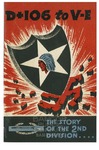 Description
From the Introduction:
"This booklet is designed to give a general picture of the Second Infantry Division in its operations from the time it reached the Siegfried Line in Germany on October 4, 1944, until it arrived in Pilsen, Czechoslovakia, its location on V-E Day, May 8, 1945.
A preceding booklet told how the Second, which was activated in France in 1917 and which probably gained more renown in World War I than any other division, opened its campaign in World War II when it came ashore on Omaha Beach in France, D plus 1, June 7. The story described the manner in which the wearers of the Indianhead patch fought their way through Treviers, Cerisy La Foret, and then, in one mighty effort, crushed the powerful Nazi defenses on Hill 192, grassy slope holding up the advance on St. Lo.
In the speedy breakthrough South that followed, the Second stepped out in front and pushed through St. Jean des Baisants, Vire, and Tinchebray in victorious but hard fighting. It was next ordered along with two other divisions to take Brest, heavily defended seaport which the Germans had used as a submarine base. After a bitter four-week struggle, in which the Nazis fought desperately to prevent the port from passing into U. S. hands, the garrison formally surrendered to Major General Walter M. Robertson, Division Commander, from Nelson County, Virginia, on September 18, 1944.
The division then moved by truck and train across France and Belgium to the Siegfried Line, where this story begins.
Keywords
United States Army, World War 1939-1945, Regimental histories, 2nd Infantry Division
Disciplines
Military History
Recommended Citation
Wood, Eward W. and United States Army, "D + 106 to V-E: the story of the 2nd Division" (1945). World War Regimental Histories. 95.
https://digicom.bpl.lib.me.us/ww_reg_his/95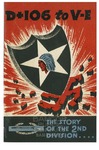 COinS