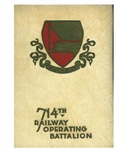 Description
Passages from Page 11:
"A liaison officer was flown to Alaska ahead of the unit and arrangements were completed by him for the housing, messing and deployment of the troops upon arrival. On the 3rd of April, 1943, the outfit sailed into the beautiful harbor of Seward. The Navy Transport Chaumont was our home for those hectic days at sea and not very many of the boys escaped the inevitable sea-sickness. The sighs of relief were plainly audible when the Chaumont finally docked at Seward and the G.l.s came streaming down the gang-plank.
The Alaska Railroad, which is owned by the Federal Government and Operated by Department of the Interior, proved to be a most important rail line in our operations against the Japs. It was the only means at hand for supplying the interior of Alaska with personnel and material for the defense of the territory and for setting up the offensive structure for our later moves against the Nipponese. The civilian personnel, even in peace times, had never been sufficient to adequately maintain and operate the line. Consequently, when war came, what few civilians remained were totally unable to keep this vital supply line going. Maintenance of the line was at a very low ebb, to such an extent that many of the structures were unsafe for operation. The mechanical personnel could not begin to cope with the problem of keeping the power and cars in shape for hauling war supplies, and the operating men were very few in number. So few were they that they couldn't have kept the trains rolling if they worked continuously twenty-four hours at a stretch, day after day. The result was a tremendous back-log of material piled up at the port of Seward and the port of Whittier had not been opened for through traffic."
For more than twenty-five months, the men of the 714th kept on the job and made the Alaska Railroad tick. Their efforts were duly appreciated and were finally recognized shortly before the unit returned to the States. By command of Lieutenant General. Delos C. Emmons, Commanding General of the Alaskan Department, the 714th was awarded the Meritorious Service Unit Plaque on 4 April, 1945 and entered the United States on the 24th of May, 1945.
Keywords
United States Army, World War 1939-1945, Regimental histories, 714th Railway Operating Battalion
Disciplines
Military History
Recommended Citation
United States Army, "714th Railway Operating Battalion" (1945). World War Regimental Histories. 84.
https://digicom.bpl.lib.me.us/ww_reg_his/84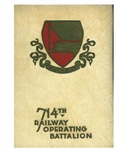 COinS