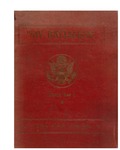 Description
"Men who go to war live strongly during every day of their anxiety and peril. What they experience both in joy and in sorrow strikes deep roots into their hearts and minds. War makes memories.
Following the collapse of Germany and the ultimate surrender of Japan, members of our Battalion began to think back over the war and the part they played therein.
The mental and physical release brought on by peace helped them to recall the many and varied incidents that typified their military days.
They found themselves trying to remember in the proper sequence where they had been and the outstanding events connected with each location. Some saved snapshots while others compiled itineraries. In each effort the theme was the same: to make a milestone in their memory of the events they would want to remember and relate when they returned home.
The natural outgrowth of all these individual endeavors was the compilation of this Battalion History.
Once conceived the idea of a beautiful and permanent record required hard work and skillful leadership. Special acknowledgement should be given the following members of our Battalion who made major contributions toward the successful publication of this volume: Edward Harris, James De Vita, Anthony Cocco, Daniel Botkiss, William Ross, Joseph Schimmler, Donald Leach, Bob Becker, Donald Walden and Leslie Williamson. To these and the many others who also helped I offer the official thanks of the Battalion.
May this book be a cherished possession of every member of the 795th AAA A W BN, that it foster and preserve many happy memories of our collective achievement in a great and victorious conflict."
John D. Betley, Lt. Colonel, U.S. Army
Keywords
United States Army, World War 1939-1945, regimental histories, 795th Antiaircraft Artillery Automatic Weapons Battalion
Recommended Citation
United States Army, ""My Battalion", World War II / 795th AAA AW BN" (1946). World War Regimental Histories. 72.
https://digicom.bpl.lib.me.us/ww_reg_his/72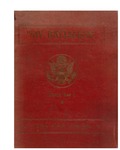 COinS