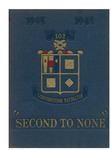 Description
"From February to December 1945, the 102nd Construction Battalion was engaged in the building of the Submarine Base, Subic Bay, Philippine Islands. Their nucleus planning group came in with the assault in February and immediately started work at the selected site which at that time was mostly rice paddies, swamps, and bare hillside. Under great difficulties of lack of adequate personneL materials and equipment, together with adverse weather conditions, the Battalion cheerfully and efficiently improvised and established essential elements of the base which were extremely useful to our submarines in fighting the last few months of the Jap war. Although uncompleted at the termination of hostilities, many members of the Battalion voluntarily stayed on long after with the avowed intention of completing the base which they had started. For their future memories, the members of the 102nd Construction Battalion have left a monument to themselves which will serve their Navy and their Nation for many years to come. It is a base which we did not have before World War II started and which is now available to us should any future aggressor nation decide to to interfere with our rights and liberties. I salute the 102nd Construction Battalion for their excellent spirit and achievements."
James Fife, Rear Admiral U.S. Navy, Commander Submarines, Philippine Sea Frontier
Publisher
Army & Navy Pictorial Pub.
Keywords
United States Navy, World War 1939-1945, Regimental Histories, 102nd Naval Construction Battalion Maintenance Unit
Disciplines
Military History
Recommended Citation
United States Navy and Delaney, Paul A., "102 Construction Battalion: "Second to none"" (1946). World War Regimental Histories. 71.
https://digicom.bpl.lib.me.us/ww_reg_his/71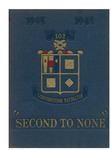 COinS