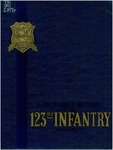 Description
YOU'RE IN THE INFANTRY
Those of us who can say those words ... let's say them with pride, but softly. Let's not shout them. Let's not stick out our chests. Let's say them with a kind of awe.
We can't tell much about it ... and wouldn't if we could. Maybe we'll say it's "rugged." Maybe we'll get across the idea that you have to be quick in the head, as well as quick with your hands, to get along in the infantry. And that, even so, your chances aren't too bright. But that's about all. Few will ever know what it means in a war like this, to be "in the Infantry," the knockout corps, the Army's infighters. But we can make the world remember at least ... that a doughboy has to master a dozen weapons ... that skill and smartness count for as much as muscle;
... That he may have to live for days on end on congealed food, in mud and slop halfway to his waist, where the rain is iron, the wind is cordite and the light is liquid fire ;
... And that, at the end, he comes face to face with a personal enemy ... another Infantryman whose ten inches of cold steel snake out for his belly, and whose gun butt swings in a short quick arc to crumple his skull.
Face to face ... that's the Infantry's war. They're out where that thin black line moves forward on the map . . . to kill or be killed.
Keywords
World War 1939-1945, Regimental histories, United States, 123rd infantry
Disciplines
Military History
Recommended Citation
Carlson, Stanley Waldo, "Regimental history, 123rd Infantry; a pictorial history -- World War II" (1946). World War Regimental Histories. 30.
https://digicom.bpl.lib.me.us/ww_reg_his/30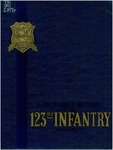 COinS