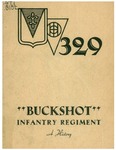 Description
This history is taken from the official records of the 329th Infantry.
It covers the battle actions of the regiment from the dogged yard by yard bloody and uninspiring slugging match of the hedgerows of Normandy, to our spectacular dash from the Rhine to the Elbe.
The record of accomplishments of the 329th is one of which any member may justifiably be proud. This record of battles won and of ground gained and held is the composite picture of many smaller fights where the decisive action was the marching fire of the rifleman, the steadfastness of the machine gunner under attack or the bravery of the bazooka man stalking p, tank. The spirit and determination of the individual made possible the winning of important battles.
These successes have not been won cheaply. Beneath the soil of Europe lie the bodies of over 850 of our comrades. To the hospitals have gone nearly 4000 others wounded in action. Most of these were killed or wounded because when the time came for them to decide between safety and duty they chose the latter. Our debt to them cannot be paid."
Colonel Edwin B. Crabill
Keywords
World War 1939-1945, Regimental histories. United States, 329th Infantry
Disciplines
Military History
Recommended Citation
United States Army and Goguen, Raymond J., "329 "Buckshot" Infantry Regiment: a history" (1945). World War Regimental Histories. 26.
https://digicom.bpl.lib.me.us/ww_reg_his/26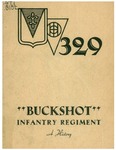 COinS