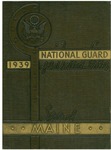 Description
Greetings
To the Military Forces of the State of Maine:
It is with a feeling of satisfaction and pride that we present you herewith this history of the military forces of the State of Maine, and in the years to come, whether you are separated from the service or not, it is felt that you may read it from time to time with some degree of satisfaction knowing that you have contributed your part in its preparation and to the accomplishments of the military forces of our State.
The men from Maine have always borne a conspicuous and highly honorable part not only in the up-building of the State since early Colonial times but in the various conflicts in which this country has been engaged, and some of the most outstanding leaders in our past wars have been from the State of Maine.
The traditions and noble records achieved by our people have been outstanding and it is felt that you will carry on these traditions should you be called upon to face the same conditions as our glorious ancestors have had to contend with.
J.W. Hanson, Brigadier General, The Adjutant General
Publisher
Army and Navy Publishing Company
City
Baton Rouge, Louisiana
Keywords
43rd Division, 86th Brigade, 240th Coast Artillery, 103rd Infantry, 68th Field Artillery Brigade, 152nd Field Artillery, 118th Quartermast Regiment, Augusta, Portland, Sanford, Saco, Rockland, Thomaston, Brunswick, Bath, South Portland, Auburn, Lewiston, Mechanic Falls, Biddeford, Rumford, Norway, Westbrook, Newport, Waterville, Dexter, Millinocket, Bangor, Belfast, Skowhegan, Gardiner, Bar Harbor, Houlton, Presque Isle, Caribou, Ft. Fairfield, Old Town, Brewer, Maine National Guard
Disciplines
Military History
Recommended Citation
National Guard of the State of Maine, "Historical and pictorial review, National Guard of the State of Maine, 1939" (1939). World War Regimental Histories. 210.
https://digicom.bpl.lib.me.us/ww_reg_his/210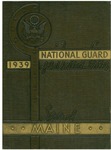 COinS