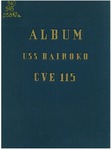 Description
Opening Paragraphs
Bairoko Harbor is a small inlet on the North coast of New Georgia, one of the Solomon Islands. A Spanish navigator, coming upon these islands in 1567, and hopefully believing he had finally touched on the fabled and wealthy lands of the Indies named the group "Ilas de Solomon." Subsequent English explorers claimed part of the group for Britain, and at the outbreak of the war New Georgia was under the English flag.
During the early part of 1942, in their effort to cut the Allied supply line to Australia, the Japanese seized the Solomons and began the construction of a series of air fields throughout the islands -- at Vila on Kolombangara, at Munda on New Georgia, and on Guadalcanal. Vila and Munda were mutually supporting fields. Bairoko Harbor lay between these two airfields and was the port of supply for Munda.
By the spring of 1943 Guadalcanal was secure and we had sufficient men and material to open the offensive against New Georgia. On June 30, 1943, Rendova Island was seized and Munda then placed under artillery fire. Marines and Infantry landed on New Georgia. In the heat and muck of the tropical jungle they met a bitter Nip foe enraged at the loss of Guadalcanal. Resistance was particularly strong near Bairoko Harbor. After six weeks of desperate jungle fighting the Munda airstrip was overrun, but Bairoko Harbor did not fall until August 25th. Its seizure marked the end of the fifty -seven day campaign for New Georgia.
Bairoko signified the end of this early Pacific campaign -- so the name of our ship is a symbol for that final victory which came during her shakedown cruise.
Publisher
Army & Navy Publishers
Keywords
United States Navy, World War 1939-1945, Regimental Histories, U.S.S. Bairoko, CVE 115
Disciplines
Military History
Recommended Citation
United States Navy, "Album USS Bairoko CVE-115" (1946). World War Regimental Histories. 207.
https://digicom.bpl.lib.me.us/ww_reg_his/207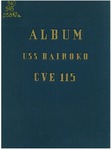 COinS