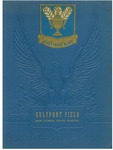 Description
Basic Training Center No. 11 was activated at Gulfport Field on July 14, 1943. The center was in full operation by the time it was formally established. Raw recruits were being received in a steady flow from reception centers.
The Basic Training Center takes the recruits, lectures them on military customs and courtesy, on basic military principles and rules. These men are taught to drill. They become soldiers.
During his stay in the Basic Training Center, every phase of the recruit's civilian life is studied. His education, his civilian background, his aptitude for specific types of work-all are closely examined. His military classification is then determined after a study of these factors and in almost every instance the recruit's preference coincides with the scientific determination of his abilities.
Gulfport Field is located along the coastal plain of the Gulf of Mexico. Here, beneath the semi-tropical sun of one of the nation's most famous resort areas, students and permanent party men alike divide their time with duty, recreation and physical training. Men who guide the destiny of Gulfport Field realize that soundness of body is essential to an alert, active life. Drill and calisthenics keep muscles toned and provide a refreshing change from the long hours of duty.
Publisher
Army& Navy Pub. Co.
Keywords
United States Army, World War 1939-1945, regimental histories, 592nd Technical School Squadron, Gulfport Field, Mississippi
Disciplines
Military History
Recommended Citation
United States Air Force, "592nd Technical School Squadron, Gulfport Field, Army Air Forces Training Command" (1943). World War Regimental Histories. 202.
https://digicom.bpl.lib.me.us/ww_reg_his/202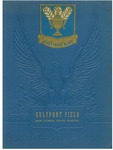 COinS