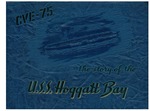 Description
Dedication
The purpose of this book is to tel a story -- not just an ordinary story, a fictional creation of one man's mind, but a living, dynamic story. It is living and dynamic because it is the story of a life. In word and picture it depicts the life of her whom we affectionately call "Queen of the CVES" -- the U.S.S. Hoggatt Bay, CVE 75.
It is the story of the men who transformed her from an inanimate bulk of steel into personality endowed with life and feeling and courage, of the men who guided her through perilous waters, of the men who manned her guns to ward off the enemy, of the pilots who soared from her flight deck to search out and destroy the same enemy. In short, it is the story of the officers and men of the Hoggatt Bay who have lived, and fought -- and died -- that others might live in peace.
To all of them, those still aboard, thos who have left us, and especially those pilots and aircrewmen, heroes all, who took off from her flight deck never to return again, this book is proudly and affectionately dedicated.
Keywords
United States Navy, World War 1939-1945, Regimental Histories, U.S.S. Hoggatt Bay, CVE 75, Casablana class carrier, Astoria Oregon
Disciplines
Military History
Recommended Citation
United States Navy, "The story of the U.S.S. Hoggatt Bay" (1946). World War Regimental Histories. 201.
https://digicom.bpl.lib.me.us/ww_reg_his/201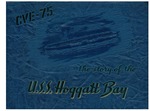 COinS