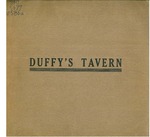 Description
Forward
"This book is not intended as a History of IX T.A.C., neither is it an evaluation of the Command's contribution to Victory in Europe. Such a story will be written elsewhere. Instead it is being composed because we -- the Officers of IX T.A.C. -- want to keep alive in our minds eye the fond associations and the satisfying memories of life in our Headquarters; to call to mind the genuine companionship and decent fellowship for that day when such values become good to remember. This is Duffy-s Tavern, with a 10 cent top for the best in the house, and genial Bob Straight in charge.
This book is an unpretentious attempt, sketchy and incomplete though it necessarily be, to capture here and there in this series of photographs something of the associations of this period. Many of the men who did most to create this spirit of good fellowship have passed by us on the road to war. These men we salute.
One word more; if at casual glance there appears a frivolous note, remember that these were not frivolous days. For there were days here too without mail, days full of the anxiety of separation, monotony and loneliness, and these were the associations which eased the Pressure when a Chaplains punch wouldn't do the trick.
And to us it has a kind of symbolism. It taught us that no matter where Americans are placed they will make the best of the situation. Deeper than that, it taught us that while fighting a vicious enemy, those powers of darkness who would destroy our way of life, we could at the same time, forge a closer bond of unity between men of good will -- Americans of all ranks, all shades of opinion and all religious faiths. It was, if you will, Democracy in action.
Here are the scenes touching on a spirit we will never forget. Reminder of the days when, far from home and those we loved, we brought cheer to one another and carried on in the name of Justice and Peace."
Keywords
United States Army, World War 1939-1945, regimental histories, 9th Tactical Air Command
Disciplines
Military History
Recommended Citation
United States Army, "Duffy's tavern : a record of the officers club of the IX Tactical Air Command" (1945). Regimental Histories. 198.
https://digicom.bpl.lib.me.us/ww_reg_his/198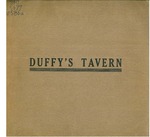 COinS