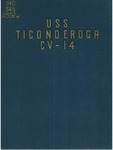 Description
Introductory Note
World War II is now history. Volumes will be written about it, covering every phase of strategy, politics, logistics. Generals, admirals, prime ministers, presidents, and historians will all have their say.
But for those of us who served aboard the Ticonderoga, the war was Reveille at 0315 -- mail call 7000 miles from home -- a TBM in the drink -- two cans of beer on "beautiful Mog Mog" -- basketball on the hangar deck -- and 21 January 1945.
The simple purpose of this book is to preserve in pictorial form the scenes, the events, and the memories of the part played by our ship and our shipmates.
Keywords
United States Navy, World War 1939-1945, Regimental Histories, U.S.S. Ticonderoga, CV-14
Disciplines
Military History
Recommended Citation
United States Navy, "U.S.S. Ticonderoga war log, 8 May 1944 to 5 October 1945" (1946). World War Regimental Histories. 197.
https://digicom.bpl.lib.me.us/ww_reg_his/197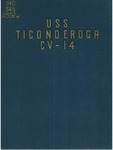 COinS