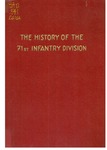 Description
Foreword
V-E Day found combat elements of the 71st Infantry Division poised along the Enns River in the vicinity of Steyr, Austria. The Red Circlers were ready, if necessary, to start out again on the long and arduous drive which had originated 800 miles back in France 59 days earlier.
Although the officers and men were happy the bloody European conflict had ended, there were no riotous V-E celebrations. War still was raging in the Pacific and the men of the 71st figured they had a good fighting outfit which would be needed in the bitter final struggle.
The reaction to V-J Day was a little more joyous, but still restrained. Final victory found the 71st with an important security mission in Bavaria, and immediately concentrated many minds on the big question: When will I go home?
It was in this confused post-war period of rapid redeployment and turnovers in personnel that this volume was prepared and published, in Augsburg, Germany, where the Division CP was located.
Prepared by members of the Division's public relations staff, with assistance from lower units and other staff sections, this book covers the history of the 71st from activation to final occupation days in Europe. The aim was to make it an interesting book, not only to Red Circlers and their families, but to almost anyone who might happen to pick it up and read it.
We hope you like this account of one American infantry division's role in World War II.
Author Unknown
Keywords
United States Army, World War 1939-1945, Regimental histories, 71st Infantry Division
Disciplines
Military History
Recommended Citation
United States Army; Clinger, Fred; Johnston, Arthur; and Masel, Vincent, "The history of the 71st Infantry Division" (1946). World War Regimental Histories. 189.
https://digicom.bpl.lib.me.us/ww_reg_his/189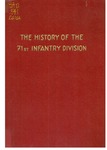 COinS