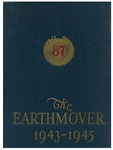 Description
This book is divided into two parts to accommodate quicker download speed.
Foreword
This volume is essentially the overall story, in log form, of the 87th U. S. Naval Construction Battalion- a hard-working Seabee outfit, which did everything asked and expected of it from the Solomons through war's sudden end on Okinawa. It is, of course, no better or worse than the approximately 1,300 officers and men who carved out its multiple achievements with their sweat, blood and, at times, even tears.
This trip book has been designed to cover the period between 20 February 1943 and 9 October 1945 -- a span of approximately 31 1/2 months. Unfortunately, no pictures were taken between 9 October and 7 November when the remaining 361 men finally embarked for the States in their twenty-seventh month overseas. The photographer and assisants had all gone home. The story of the tour has been purposely kept vague or general so that each man might be free to relate his version of the sequence of events as he saw them.
This publication has been prepared for the men of the 87th, their families and friends and is not intended for general publication or circulation. Moreover, the opinions expressed in this volume are those of the editors and their staff and are not intended to reflect those of the Navy Department or the service at large.
Every reasonable effort has been made to keep the written portions of this trip book as objective as possible. And an honest effort has been exerted throughout to make the book as factually accurate as existing facilities for assembling and checking information would permit.
However, conceived and launched just prior to leaving New Caledonia and finished in foxholes and amid post-war confusion on Okinawa, the job, a spare-time project until 12 August 1945 , was accomplished under just the worst circumstances imaginable.
At its best, THE EARTHMOVER could never hope to depict the overall impact inflicted on each man during the several years spent on these far-flung Pacific islands. but the editors herewith submit it as a fair resume of the 87th's role in World War II.
Keywords
United States Navy, World War 1939-1945, Regimental Histories, 87th U.S. Naval Construction Battalion, Seabees
Disciplines
Military History
Recommended Citation
United States Navy, "The earthmover: a chronicle of the 87th Seabee Battalion in World War II" (1946). World War Regimental Histories. 186.
https://digicom.bpl.lib.me.us/ww_reg_his/186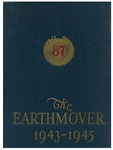 COinS