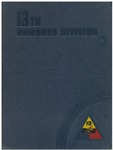 Description
Book is divided into two parts.
From the introduction:
"This is the history of the 13th Armored Division, a story of three long years in training and battle -- a story written not in the bone-dry dust of the historian, but rather with the sweat and blood and honest fear of the infantryman, the tanker, and the cannoneer. These men worked together, lived together, and some of them died together -- died in the filth and rubble of the war-ravaged Ruhr or in the rivers and forests of Bavaria. But, most of the men lived -- and fought, and captured towns, liberated prisoners of war, killed Germans -- and helped win the war. This, then, is the story of these men, living and dead.
The war was young, andnot going at all to our liking, when we descended upon Camp Beale, California in 1942 to begin the long training grind that was to lead us to the battlefields of Germany. And we were young, too, and cocky -- "Get that cap on the left side of your head, soldier. You're in the Armored Force now' we barked. We trained and learned the arts of battle the hard way -- toughening up with basic training, and problems staged with the realism of combat. "California's Own" they called us -- and the Governor of the state christened our tanks. That was in the summer of 1943. For two years we toughened up at Beale and Camp Bowie, Texas, and we were plenty rugged when they put us on that boat for the ETO."
Keywords
United States Army, 13th Armored Divison, Regimental histories, World War 1939-1945, 496th Armored Field Artillery Battalion, 497th Armored Field Artillery Battalion, 498th Armored Field Artillery Battalion, 24th Tank Battalion, 45th Tank Battalion, 46th Tank Battalion, 16th Armored Infantry Battalion, 59th Armored Infantry Battalion, 67th Armored Infantry Battalion, 93rd Cavalry Reconnaissance Squadron, 83rd Armored Medical Battalion, 124th Armored Engineer Battalion, 135th Ordnance Maintenance Battalion, 153rd Armored Signal Company
Recommended Citation
United States Army, "The Thirteenth armored division: a history of the Black Cats from Texas to France, Germany and Austria and back to California" (1945). World War Regimental Histories. 185.
https://digicom.bpl.lib.me.us/ww_reg_his/185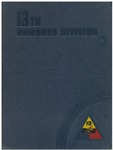 COinS
Rights Statement
No Copyright - United States. URI: http://rightsstatements.org/vocab/NoC-US/1.0/
The organization that has made the Item available believes that the Item is in the Public Domain under the laws of the United States, but a determination was not made as to its copyright status under the copyright laws of other countries. The Item may not be in the Public Domain under the laws of other countries. Please refer to the organization that has made the Item available for more information.