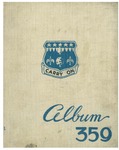 Description
From A Spearhead Regiment (the book's introduction):
"When the blood, sweat, and dirt of war become memories, who will remember the " little things" that GI Joe did, to make war just "a memory"? We will, of course. The 90th Division through its battles and conquests will go down in the annals of history as one of the finest and bravest Division of World War II.
After our return to civilian life it will give us great satisfaction to look back at ourselves as were in combat, arid to see ourselves as the heroes of the 359th, one of the great regimental combat teams of the war. We have collected many pictures; all but a few taken by GI Joe himself on the battlefield. Insofar as photography is concerned, some photos could be better, but that doesn't really matter. They show us things as they were, and as they actually happened with no dressing and special poses. They show us as we were at the time we helped make history.
We have no pictures of D-Day. Men are not in the mood to take pictures while all Hell is breaking loose around them. Storming the "Heinies" well fortified positions was work enough for that day. Landing on Utah Beach amidst the heavy fire of the enemy was a remarkable achievement. There were a few pictures taken by those few men who can do their job plus under any conditions; but the pictures were unable to be located. However, those men who were on the landing need no pictures to remind them of it. Nor will those men of the 2nd Battalion who were on the transport, "Susan B. Anthony", when it struck a mine and sank on June 7th ever forget. The transport stayed afloat just long enough to enable rescue of all the men. These men were loaded swiftly into small boats amidst gun and shell fire. By the night of D plus I, the bulk of the regiment was assembled on the beach. The supporting units were ashore D plus 4. Those of you who remember this incident have a picture that is printed indelibly in your memory."
Keywords
United States Army, 90th Infantry Division, 359th Infantry Regiment, Regimental histories
Disciplines
Military History
Recommended Citation
United States Army, "Album: 359th Infantry - 90th Division" (1945). Regimental Histories. 183.
https://digicom.bpl.lib.me.us/ww_reg_his/183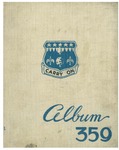 COinS