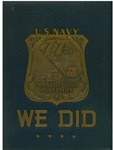 Description
From the unofficial introduction:
"And Seabee ingenuity, what of that? We made bull fiddles out of oil drums, violins out of native mahogany on Guadalcanal, sight-seeing boats out of sunken barges; drove piles without pile drivers, built bridges before our equipment could get to us. On Bougainville, although bombed 60 times by the Japs, Seabees on their own time rigged up an ice cream factory which supplied 30 gallons of the world's best ice cream to these fighting builders. Perhaps these examples seem trivial in the light of the substantial contributions to total victory which the Seabees have made, but they reveal the spirit of the men. How are you going to discount men who can go through 60 bombings and come out making ice cream?
We are famous now, this group begun so few years ago -- famous for our work, famous for our fights, famous for our ability to make something out of nothing, but we are famous for other things, too, not the least of which is our chow. Many are the Marines and soldiers who have come to Seabee mess halls for a hot meal. The 77th never sat down to a meal without at least one guest. Some of these were famous, many more were just GI's on the line who could do with something hot inside. The 77th Welcome Mat was always out, not one meal chit was ever issued to one of these guests.
So it went for four long arduous years, move up, move in, build up, roll down, clear out, haul dirt, tamp strips, lay mats, move out, start again. The pattern has been set, the die cast. The Seabees are in, in to stay, in as a part of the fighting team of the United States. Construction men in uniform, trained to build by years of experience, trained to fight by Uncle Sam, ready to turn Can Do into We Did whenever and wherever the need for construction engineers is greatest. And now for the story of the 77th, one of the best of the many which fought and built in World War II."
Author unknown
Publisher
Army& Navy Pub. Co.
Keywords
United States Navy, World War 1939-1945, Regimental Histories, 77th Naval Construction Battalion
Disciplines
Military History
Recommended Citation
United States Navy, "We did: the story of the 77th Naval Construction Battalion" (1946). World War Regimental Histories. 181.
https://digicom.bpl.lib.me.us/ww_reg_his/181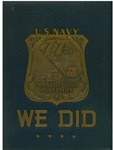 COinS