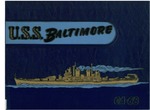 Description
Beginning of The Baltimore Story: Now at Wars' End the Story of the Heavy Cruiser U.S.S. Baltimore Can Be Told!:
Like other battle seasoned and scarred heavy cruisers. the USS Baltimore has lived a full war life, sampled its first battle with a bombardment of Makin island, stormed through the Gilbert, Marshall, and Marianas campaigns, leveled the synchronized fury of its nine protruding eight-inch rifles on Satawan island in the Caroline group; but unlike many less fortunate cruisers, the Baltimore had run the gamut unscathed.
Some of her actions and deeds -- like carrying the late President Roosevelt to his historic triumvirate at Pearl Harbor with five-star Admiral Nimitz and General MacArthur-were tagged as "top secret", thus remained untold 'til war's end. But probably the main reason for her silent satirically and smothered blackout was that in doing a thorough workmanlike job for over two years, the Baltimore's skippers (Captains Calhoun and Fink), officers, and crew had clearly defied, coldly thwarted, and precisely out maneuvered every Nip attempt to register a single hit on its six hundred and seventy feet of armored deck and superstructure.Not once did she wear a hurt, martyred look, or limp into the news as a battle casualty -- not a man did she lose through enemy action. But the Baltimore was always there, as her crew so loudly and proudly echoes: "They don't wear service stars for nothing!"
Keywords
United States Navy, World War 1939-1945, regimental histories, U.S.S. Baltimore, CA-68
Disciplines
Military History
Recommended Citation
United States Navy, "The history of the U.S.S. Baltimore, CA-68" (1946). World War Regimental Histories. 178.
https://digicom.bpl.lib.me.us/ww_reg_his/178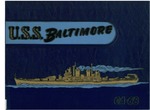 COinS