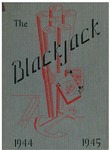 Description
From the Foreword
For three years these men have adjusted their individual characters, their own ways of doing things, their very natures to that vague method of procedure called "The Navy Way." It is at once the most efficient and most bungling method of getting things done. It is a conglomerate of logical procedure mixed with hopeless muddling, sound economy with profligate waste, rank incompetency with expert performance, nonsensical methods of operation with excellent results. Men exposed to the Navy Way for three years have drunk the dregs of despair and tasted the wine of life at its fullest. They have seen life at its worst and at its best. Men so exposed will never be the same. Such are the men of the Twenty-First.
This is our story. This is the story of the 21st U. S. Naval Construction Battalion, the 21st Seabees, the Blackjacks -- one of those groups of a thousand-odd men who helped to build and fight the way to the defeat of Japan. We were just one battalion, and thousands of battalions and millions of men and women made up our armed forces. Maybe our part was small in the whole history of the war, but we saw to it that this part was done with a let's-get-it-over-with-quickly, "Can Do" energy.
These words and pictures are mostly about our second tour of overseas duty -- our work in the Central and Western Pacific. Before this came our first "cruise" in the Aleutians.
Publisher
Army & Navy Pub. Co.
Keywords
United States Navy, World War 1939-1945, Regimental Histories, 21st U.S. Naval Construction Battalion, Seabees
Disciplines
Military History
Recommended Citation
United States Navy, "The Blackjack, 1944-1945: a story about and published by the 21st U.S. Naval Construction Battalion" (1946). World War Regimental Histories. 174.
https://digicom.bpl.lib.me.us/ww_reg_his/174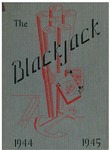 COinS