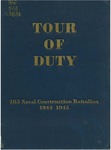 Description
Introduction
Naval Construction Battalion 103 was not among the first to go to war. World War II had been raging perilously for twenty-one months before our men mustered into boot camp. Yet this did not mean we were lax in responding to the battle call. For it was logical that the nation count on many of our kind to first build the industrial might by which we armed ourselves and our allies. Aircraft plants and planes, munitions plants and guns, shipyards and ships had to be built. Those who remained behind us had to be taught a multitude of artisan trades only the construction men could perform. Then, with the industrial potential leaping ahead, we put down our tools and tasks: We said goodbye to our families, children and friends, and solemnly shoved off for boot camp.
By average, the men in this battalion, and those who followed, are older in years of experience. When we entered boot camp a new system of military training, based on modern battlefield conditions, awaited us. When we took aboard our gear for the big overseas job, we found it to be the best equipment man could make.
This is a far different story than of our Construction Brothers who had gone on before. Ill-prepared, those men threw themselves before the yellow tide in the Pacific-and stopped it cold. Only a few bull dozers, a minimum of military training, and an amazing amount of guts did the trick. They diked up that yellow tide. Held it until we and others, well trained and well equipped, could move out into this war theater to secure and make ready the great offensive now launched from all quarters against the enemy.
Naval Construction Battalion 103, to date, has seen only the backwash of war: Marine casualties returned from tough campaigns; a handful of enemy flushed out, like sewer bugs from dank and odorous caves; a city and villages blasted to rubble and ruin; natives carrying life-time scars of torture. These sights have a profound effect upon all of us. Impulsively we want to drop the hammer and saw, take up the carbine and press on to actual combat. That chance may yet come.
We are on this tour of duty to build. We are here to construct the facilities by which the war progresses toward the unconditional surrender of the enemy. And we are bound to do these duties well for the sake of every man who came out here to fight and to build, but who will never see, with mortal eyes, his home again.
The Seabees were conceived at a ghastly, agonizing hour in our history shortly after Pearl Harbor, 7 December 1941. They emerged as a surprise force, the one BIG NEW element in the waging of a surprise war, and have proven to be neither strictly sea goin', in the Navy sense, nor landlubbers. Rather their ranks boast of men of the sea and men of the soil alike. They have brought their pontoon causeways through rough surf and shellfire to establish beachheads; they have tilled the soil of these far off lands to raise crops for desolated natives. Yet their main task has been to construct forward bases from which a mighty Navy and Army press home the attack.
Construction Battalion 103 is doing just that. And in this pictorial review of our tour of duty thus far, you will see a battalion of American men at work-and at play, too. For it is an American premise to see the lighter side, to fraternize with friendly people, to indulge in horse-play during those all too few hours of liberty.
Keywords
United States Navy, World War 1939-1945, regimental histories, 103rd Naval Construction Battalion
Disciplines
Military History
Recommended Citation
United States Navy, "Tour of duty: 103 Naval Construction Battalion, 1943-1945" (1946). World War Regimental Histories. 167.
https://digicom.bpl.lib.me.us/ww_reg_his/167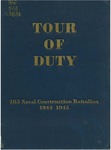 COinS