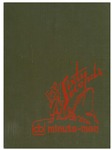 Description
Foreword
The battalion arrived at Pearl Harbor on March 29, 1943. "Remember Pearl Harbor" had become a battle cry for all Americans in the Pacific War. Our Marines had turned the tide of the Japanese offensive at Guadalcanal and the enemy had begun to feel the blows struck from Henderson Field built by the Seabees.
The Navy was beginning to marshal her fast growing forces at Pearl Harbor. Men, material, and ships required new barracks, warehouses and ship-repair facilities. The 62nd Battalion was the first to take over work from the contractors at Pearl Harbor and our officers and men carried through their jobs with the true Seabee spirit and ingenuity. Among the vital and urgent projects completed were the Submarine Base Extension, the Waipio Point Amphibious repair facilities and housing at the Advance Base Reshipment Depot.
As the Pacific War moved in to full scale offensive, our battalion was assigned to the Western Pacific on the assault eschelon at lwo Jima. Our battalion arrived on " Bloody lwo" soon after the Marines and started to work immediately on the Southern Airfield. As soon as the Southern Field was operational, the 62nd Battalion was ordered to the Central Airfield. Both jobs were started under enemy mortar and sniper fire and the courage and the spirit of the battalion can never be forgotten.
This book is a history of your battalion, a battalion in which you can take well-earned pride. It is a record of your experiences, both the hardships and pleasures which have made up your part in the winning of the war in the Pacific.
F.B. Campbell, Comdr. USNR (CEC), Commanding Officer
Publisher
Army& Navy Pub. Co.
Keywords
United States Navy, World War 1939-1945, Regimental Histories, 62nd Construction Battalion
Disciplines
Military History
Recommended Citation
United States Navy, ""We did," the story of the 62nd NCB, December 7, 1942 to September 15, 1945" (1946). World War Regimental Histories. 164.
https://digicom.bpl.lib.me.us/ww_reg_his/164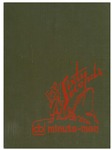 COinS