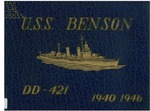 Description
From The Log of the U.S.S. Benson DD-421
The U.S.S. Benson (DD-421), is one a class of thirty-two destroyers, known as "Benson Class of 1937-1940." The Benson is one of thirty destroyers built to Bethlehem-prepared plans.
The Benson is named for Admiral William S. Benson, U.S.N., and was built at the Bethlehem Steel Company Plant, Quincy, Massachusetts -- authorized March 27, 1934; keel laid May 16, 1938; launched November 15, 1939 and first commissioned July 25, 1940.
Some of the characteristics of the Benson class are: square funnel caps and bases; uneven height of stacks. Destroyers of this class are ten tons lighter and eight inches narrower than destroyers of a later class, known as the "Livermore" type; otherwise they are similar. Both classes have four high-pressure boilers, geared turbines and twin screws. Cruising range exceeds 9,000 miles at 15 knots. The "Benson " class, DD-421 to DD-428 were originally armed with five 5-inch-38's, and ten tubes. A few still carry ten tubes. Light armor protects bridges and controls in all newer destroyers.
Little has been written of the part that destroyers played in World War II, where they were called on to fulfill such a variety of missions that they were multi-purpose ships, engaging in any form of combat. Because we lacked suitable escort ships, destroyers were used to protect convoys, as well as to guard our combatant Task Forces. Destroyers were used to bombard enemy shore positions, and to carry bombs and aviation gasoline, and stores to Guadalcanal during the lean weeks, early in the campaign in those far-distant seas.
By nature as well as by name, the purpose of the destroyer is wholly offensive Bantamweights in comparison with the great battlewagons, they pack a punch out of proportion to their size. They are triple-threat weapons, built to strike at the enemy on or over or under the sea. They are the "fightingest things afloat."
Keywords
United States Navy, World War 1939-1945, Regimental Histories, U.S.S. Benson (DD-421), destroyer
Disciplines
Military History
Recommended Citation
United States Navy, "U.S.S. Benson DD-421 : 1940-1946" (1946). World War Regimental Histories. 160.
https://digicom.bpl.lib.me.us/ww_reg_his/160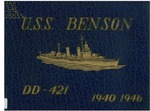 COinS