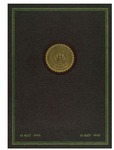 Description
Foreword
It has been regretted for some time that, because of Wartime restrictions, personally owned cameras are not allowed on board, and it has been impractical for the Photo Lab to attempt to furnish all hands with pictures of the places we have visited and of the many interesting, thrilling, exciting and even hair-raising experiences that we have had during this, our first year as an integral, fighting part of our Fleet.
Considerable thought also has been given to devising some means whereby the memories of our many experiences, and our everyday life aboard, might be preserved in a definite and concrete form, because, regardless of how anxious we are to get back to our families, and regardless of how arduous, trying, and nerve racking our experiences have been, when the time comes for us to leave the Lunga Point, it is confidently believed that our happiness in returning to our families will be mingled with a genuine feeling of regret in having to leave the many friends we have made on board, not to mention the regret we shall feel in leaving the Lunga Point, which has, after all, been our home for many months now. We feel that we can say without fear of contradiction that the Lunga Point and those who have served in her will have a very warm spot in the heart of every Officer and man who has been privileged to fight her, and that place in our hearts will ever increase as the years roll by.
.... Every officer and man should, therefore, receive due credit for the part he played, and for that reason, the name, rank or rate, and home address of every member of our Ship's Company will appear in this book, except for some few who have been transferred without leaving their addresses.
In the above paragraphs, this book has its genesis. It is not a perfect book by any means. There have been many obstacles, some of which it was impossible to surmount, but it has been our earnest endeavor, as nearly as possible, to completely and faithfully chronicle our first year for you. If this book achieves its purpose of preserving those friendships and memories of the past year, we will have been well rewarded for our efforts, because, as your Editor, we will have that deep sense of personal satisfaction that can come only from the knowledge of a job well done.
It's been a grand cruise, Shipmates. Au revoir ! And God Bless you all.
S. Linton Smith, Lieut., USNR
Keywords
United States Navy, World War 1939-1945, Regimental Histories, U.S.S. Lunga Point (CVE-94), Casablanca class escort carrier
Disciplines
Military History
Recommended Citation
Smith, S. Linton USNR, "U.S.S. Lunga Point, CVE 94: a pictorial log covering the ship's career in the War against the Axis, 14 May, 1944 - 14 May, 1945" (1946). World War Regimental Histories. 155.
https://digicom.bpl.lib.me.us/ww_reg_his/155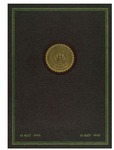 COinS