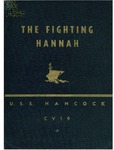 Description
"Naval warfare is one of civilization's oldest sciences; its axioms modified as progress in propulsion and armament dictate but fundamentally unchanged in doctrines and concepts. The successful naval strategist and tactician must be a keen student of history in order to understand the precepts under which his potential enemies, guided as they may be by geographical limitation and political aspiration, must design and deploy their fleet.
It was fortunate indeed that far-sighted naval officers salvaged from the Washington Arms Conference of 1922 the right to convert two battle-cruisers, then under construction, as aircraft carriers. These two carriers, the Saratoga and Lexington, formed the nucleus of a new naval unit, the Fast Carrier Force, which was to weave a vast network of air power over the tremendous reaches of the Pacific in World War II.
Prophetic too, the decision to name this, new-type ship for great and decisive battles in the rise of American Democracy and for famous and gallant ships which fought for American principles. Thus the new Hancock became another in the long line of vessels to bear the name of the great statesman for whom the original Hancock, one of thirteen frigates authorized by the Continental Congress on December 13, 1775, was named. Her namesake, John Hancock, was chairman of the committee which authorized our first Naval vessels in October of the same year.
On January 26, 1943, the keel was laid for the U.S.S. Hancock CV-19, eleventh in the proud line of carriers which made their debut with the commissioning of the U.S.S. Essex CV-9 on December 31, 1942.
The new Hancock was originally laid down as the U.S.S. Ticonderoga while the Ticonderoga was laid down as the Hancock. A prominent insurance company is understood to have offered to sell enough War Bonds to pay for the entire cost of the ship if it were built in Quincy, Massachusetts, instead of Newport News, Virginia. As a consequence the names of the two sister ships were exchanged while agents of the insurance company commenced a highly successful War Bond drive. As a resut of this drive the total reached was sufficient not only to cover the building costs, but to pay operation costs for the first year of service."
E.G. Hines, USNR
Keywords
United States Navy, World War 1939-1945, Regimental histories, U.S.S. Hancock, "Fighting Hannah", CV-19, Essex-class aircraft carrier
Disciplines
Military History
Recommended Citation
United States Navy and Hines, Eugene G., "The "Fighting Hannah": a war history of the U.S.S. Hancock CV19" (1945). World War Regimental Histories. 146.
https://digicom.bpl.lib.me.us/ww_reg_his/146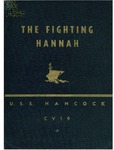 COinS