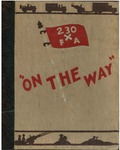 Description
Preface
This is the history of our record as Artillerymen in the 230th Field Artillery Battalion. In its pages we will march together again as comrades-in-arms, with quiet pride in the job we have done, and with the hope that Saint Barbara, the patron of all artillerymen, will look upon our record and find it worthy of the Field Artillery tradition.
It would be ideal if each of us were mentioned by name in this history. But this is the story of our Battalion, and we were and are the Battalion. There was a story to tell; and it had to march along without too much regard for the individual and what he had done. You will find yourself in these pages, because you were there, or you had a friend who was there. You know what the situation was -- this may keep your memories fresh.
We were "CROW"--and our black wings covered a continent. When peace comes, the rustle of wings of a crow will remind us again of what we did.
Keywords
United States Army, 230th Field Artillery Battalion, Regimental histories, 13th Infantry Division, Cannon Company 120th Infantry Regiment
Disciplines
Military History
Recommended Citation
United States Army, "On the way: a historical narrative of the Two-thirtieth Field Artillery Battalion, Thirtieth Infantry Division, 16 February 1942 to 8 May 1945" (1945). Regimental Histories. 136.
https://digicom.bpl.lib.me.us/ww_reg_his/136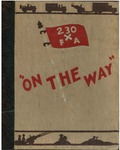 COinS