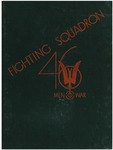 Description
Preface:
This history is dedicated to the Fighter Pilots of VF 46 with my admiration, respect and affection.
It is a narrative of the Squadron from its inception to the end of its first and last carrier combat tour of duty. Opportunities of splashing large numbers of enemy planes in "Turkey Shoots", enjoyed by some of our contemporary Air Groups, simply did not present themselves to 46. Any AGC will concede there is a great deal of luck in being assigned to Strikes or CAP where the hunting was good. We were not lucky in our assignments. Every opportunity to inflict damage on the enemy, however, was capitalized, thus contributing to their ultimate defeat in some of the most important actions of the war.
To one who has participated enthusiastically in all forms of athletics for many years without ever having approached perfection in any, the expert is profoundly impressive. I can't resist this opportunity, therefore, to express my feeling which borders on awe for the perfectionist in the most difficult of all physical achievements. I refer to Carrier Landings. They require more precise timing, hair-trigger thinking and faultless judgment than any form of physical accomplishment. Each move is under pressure and unless perfectly executed may result in serious injury or death.
Timing, the sine qua non of success in all forms of athletics, is concededly most allusive in the Royal and Ancient game of golf. Here the problem of timing is between a moving object, the golf club, and a stationary one, the ball. Not so difficult a problem of timing presents itself · in all kinds of racquet games where both the racquet and the ball are in motion. fn both of the above type of games the motion of the club can be controlled at all times to meet the object whose course is predictable, and therefore can be anticipated. Yet with these advantages how many participants can be classified as experts? There are few Bobby Joneses, Byron Nelsons, Bill Tildens or Donald Budges.
On the other hand, all Carrier pilots are experts in Carrier landings. Many perfect carrier landings are made with plane controls damaged by enemy flak on an itinerant base, 588 feet long by 71 feet wide, one-third of which may be covered by planes parked forward, heaving and bobbing in a rough sea. The club, in this case a six-ton Grumman Hellcat landing at a speed of 65 knots with damaged controls, must meet in perfect timing, an object, the deck, whose motion is unpredictable. All participants have to be experts. Necessity is the mother of perfection.
The pilots in Fighting 46 were always willing to do their job from dawn to dusk, were modest in their claims, bending backward to give their fellow-pilot the credit in case a doubt existed, showed no evidence of false heroics and were gentlemen. Anything one can say falls short of tP,e truth. In the words of Commander Kenneth McCracken, Navigation Officer of the U.S.S. Independence, I regret that my medium is paper instead of bronze.
Hibben Ziesing, LT. COMDR., U.S.N.R. A.C./.0., and Historical Officer
Keywords
United States Army Air Corps, World War 1939-1945, Regimental histories, 46th Fighting Squadron
Disciplines
Military History
Recommended Citation
United States Army Air Corps and Ziesing, Hibben, "History of fighting Squadron Forty-six: a log in narrative form of its participation in World War II" (1946). World War Regimental Histories. 132.
https://digicom.bpl.lib.me.us/ww_reg_his/132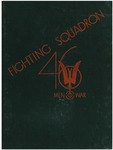 COinS