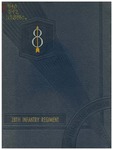 Description
From History of the 28th Regiment, page 22:
On July I, 1944, a convoy of four troop ships and twelve motor transports steamed out of Belfast Harbor carrying the 8th Division to the continent of Europe. On July 4, twenty-eight days after D-Day of the Allied invasion of Normandy, the Regiment began debarking at Utah Beach on the Cherbourg peninsula.
Next day it had assembled in the vicinity of Montbourg where final preparations for battle were completed. Allied invasion armies at this time held only a few square miles of the territory of France. The city of Cherbourg had recently been taken, and the Germans had been driven from the northern tip of the peninsula to a point just north of La Haye du Puits. From there the enemy line extended through Carentan and St. Lo eastward to Caen and Orne River estuary. German resistance in most sectors was heavy even against already achieved air superiority.
On July 6 the Regiment moved to an assembly area near the town of St. Sauveur Le Vicomte, the following morning orders were received to take over a section of the line, one kilometer south of La Haye du Puits. The plan for the Division, was to attack to the south, passing through the 82nd Airborne Division, taking over the center of the Corps front. The main effort of the drive was to be made in this sector.
Publisher
Army& Navy Pub. Co.
Keywords
United States Army, World War 1939-1945, Regimental histories, 8th Infantry Division, 28th Infantry Regiment
Disciplines
Military History
Recommended Citation
MacGregor, Harold E. and United States Army, "28th Infantry Regiment, 8th Infantry Division" (1946). World War Regimental Histories. 122.
https://digicom.bpl.lib.me.us/ww_reg_his/122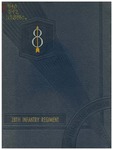 COinS