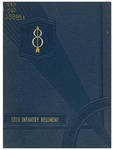 Description
From History of the 13th Regiment, World War II, page 34:
The first action in World War II, in which elements of the 13th Infantry Regiment participated occurred on the 9th of July, 1944, when the Third Battalion cleared out pockets of resistance in the town of La Haye du Puits, capturing approximately 100 prisoners.
The real D-Day for the 13th Infantry came on July 13th when the Regiment passed through the 28th Infantry, south of La Haye du Puits. At 0800 it attacked to the south with the First Battalion on the right, the Third Battalion on the left, and the Second. Battalion in reserve. The dense hedge-row country through which the fighting progressed was strongly defended by enemy mortar, artillery, and small arms fire. Both the First Battalion and the Third Battalion advanced steadily all day against strong resistance and by darkness both Battalions had reached their objectives some 1800 yards south of the jump-off line. The fighting in the First Battalion area was particularly bitter near the town of Vesly. For its action at Vesly, Company B, commanded by Captain Allen J. Mauderly, received a Division citation. For the Third Battalion, the town of La Puits Ruault constituted the main strong point.
Publisher
Army& Navy Pub. Co.
Keywords
United States Army, World War 1939-1945, Regimental histories, 8th Infantry Division, 13th Infantry Regiment
Disciplines
Military History
Recommended Citation
United States Army, "Eighth Infantry Division, a combat history by regiments and special units [U.S. Army. 13th Infantry Regiment]" (1946). World War Regimental Histories. 121.
https://digicom.bpl.lib.me.us/ww_reg_his/121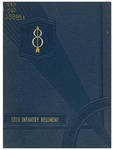 COinS