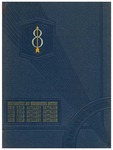 Description
From ETO Action -- Headquarters Battery, page 19:
On July 4, 1944, Headquarters Battery, Eighth Division Artillery-properly known as the artillery "nerve center" moved out of crowded landing craft and began the long climb up the hill at Omaha beach and then along the dusty Normandy roads that led to combat.
Marching inland, the battery took up a position near the village of La Haye du Puits, prior to jumping off in a Seventh Corps attack. Here men and officers got their first taste of combat as German guns -- 88s and bigger -- began almost immediately to drop into the battery area, inflicting several casualties. Nonetheless, the battery proceeded with its duties -- chiefly those of maintaining wire and radio communication -- and played an instrumental role in the Eighth Division's seizure of immediate objectives. When the First Army's attempt to break out of the Normandy Peninsula (the attack began July 26) proved successful, the battery moved with considerable speed, following in the wake of the Fourth Armored Division's rapid advance. Along the road that led to Rennes, a sizeable Breton city, the battery got its first real taste of Jerry strafing when a flight of ME-109s chewed up the highway with machine guns and cannon and added considerably to our roster of Purple Hearts.
Rennes fell. We rested, discovered cidre, tried our luck with the French language, then moved to the outskirts of Brest and played our vital part in the reduction of that large port.
Publisher
Army& Navy Pub. Co.
Keywords
United States Army, World War 1939-1945, Regimental histories, 8th Infantry Division, 28th Field Artillery Battalion, 43rd Field Artillery Battalion, 45th Field Artillery Battalion, 56th Field Artillery Battalion
Disciplines
Military History
Recommended Citation
United States Army, "Eighth Division Artillery" (1946). World War Regimental Histories. 120.
https://digicom.bpl.lib.me.us/ww_reg_his/120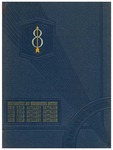 COinS