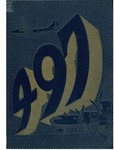 Description
From the Foreword, written by Arnold T. Johnson, Col. A.C., Group Commander:
This book has been prepared and published in the belief that every member of the 497th Bomb Group will want to have its glorious combat history preserved and that every member will desire to have a copy. It is hoped, as you browse through this book in future years, it will serve to remind you of your many friends and team-mates with whom you served. It is hoped, as you glance through the "Roll of Honor", it will keep alive your memory of our brave friends who did not return, and of the great sacrifices a war exacts. Because these gallant men made the supreme sacrifice, we are living to enjoy the "Four Freedoms" for which this war was fought.
As I think back to those days on Saipan, where we lived, worked and fought together, I think of the smoothest functioning team it has ever been my pleasure to serve with. I think of every man performing his duties with loyalty and cooperation and to the best of his ability. Men in the kitchens, on the maintenance line, in the offices, on board the airplanes; each seemed to take pride in making every mission a little better than the last; each knew that his efforts brought the war to a close just a little sooner.
Every-man who fought with the 497th Bomb Group deserves the highest praise and commendation. To each of you I extend my sincere appreciation and congratulations for the job you did so well.
Preparation of this book did not begin until five months after the group had returned to the States. The group was then stationed at MacDill Field, Tampa, Florida. Very few of the enlisted personnel had returned, many of the officers had returned but there were also many new ones assigned. Many staff positions were filled by personnel who were new to the group. The records of the group, including the squadron records, arrived home in a thoroughly disorganized fashion and a considerable amount of the records were never found. These facts together with the difficulties in obtaining the correct status of missing personnel and present locations of all former personnel have made the task of preparing this book very difficult.
It is desired to acknowledge that this book will contain many imperfections and perhaps many errors. The errors are regrettable but everything has been done to avoid them, insofar as has been possible. In spite of this, it is believed that this book is well worth while and will be thoroughly enjoyable to all former personnel of the group.
Keywords
United States Air Force, World War 1939-1945, Regimental histories, 497th Bomb Group
Disciplines
Military History
Recommended Citation
Stewart, Harry A.; Power, John E.; and United States Army Air Forces, "The Long haul: the story of the 497th Bomber Group (VH)" (1947). World War Regimental Histories. 106.
https://digicom.bpl.lib.me.us/ww_reg_his/106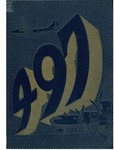 COinS