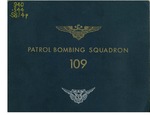 Description
Patrol Bombing Squadron One Hundred Nine was reformed on 5 October 1944 at Naval Auxiliary Air Station Camp Kearney, San Diego, California, as a streamlined Patrol Bombing Squadron with fifteen PB4Y-2 planes (Privateers), and a normal complement of eighteen flight crews of twelve men each. On 6 December 1944 command of the squadron was assumed by Lieutenant Commander George L. Hicks, USNR, former Executive Officer of old Bombing Squadron 109, with Lieutenant Commander John F. Bundy, USN, as Executive Officer.
The squadron trained initially under Fleet Air Wing Fourteen at Camp Kearney, flying its planes to Naval Air Station, Kaneohe, T. H., in February for an advanced training period under Fleet Air Wing Two.
On 10 April 1945 the squadron moved into the combat area, and active operations against the enemy were begun on 20 April 1945 with a special reconnaissance of PAT ANI Roads, Gulf of Siam, flown from Pala Wan, Philippine Islands.
The primary mission of the squadron was long range search, patrol, and armed reconnaissance, but special patrols, strikes and assorted duties often engaged all the squadron's attention.
Keywords
United States Army Air Forces, 109th Bombardment Group, World War 1939-45
Disciplines
Military History
Recommended Citation
Steele, Theodore Manning, "A pictorial record of the combat duty of Patrol Bombing Squadron One Hundred Nine in the Western Pacific, 20 April 1945-15 August 1945" (1946). World War Regimental Histories. 101.
https://digicom.bpl.lib.me.us/ww_reg_his/101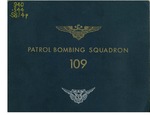 COinS