Preview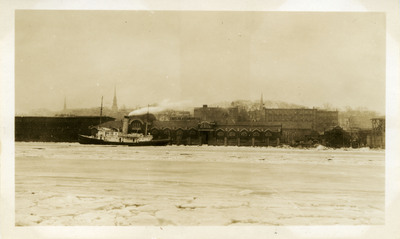 Description
A view of the U. S. Coast Guard ship WAGL-56 USS Kickapoo on the Penobscot River, in front of the Eastern Steamship Co terminal in Bangor, Maine.
157' class Tug/Icebreaker/Buoy Tender:
Displacement: 848 tons
Length: 157'4"
Beam: 35'
Draft: 14'6"
Speed: 11.5 knots
Armament: None
Complement: 1 officer, 3 warrants, 36 enlisted
Triple-expansion steam engine, single screw, 1,000 hp
Built at Bethlehem Steel, Elizabeth Port, N.J., and commissioned 21 January 1922
During World War II, Kickapoo was assigned to 1st District, stationed at Buzzards Bay, Mass. and Rockland, Me. She was used for ice-breaking and general aids to navigation duty.
Keywords
coast guard, kickapoo, ice breaker, bangor, eastern steamship co, penobscot river
Dimensions
10.4 x 6.1 cm.
To view larger size: Download and view in your browser
Keywords
coast guard, kickapoo, ice breaker, bangor, eastern steamship co, penobscot river
COinS