Preview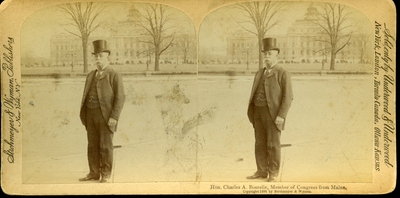 Description
Charles A. Boutelle (1839-1901), poses in front of the U.S. Capitol in 1898 when he was serving in the U.S. House of Representatives.
He was elected to the House in 1882 and became the second longest-serving Maine Representative. Boutelle was so popular that, when he suffered a seizure in late 1899 and was removed to a mental institution in Massachusetts for the rest of his life, he was nonetheless re-elected.
after several years of local involvement. He was a popular figure; using his naval background he was instrumental in modernizing the American navy and in the rise to prominence of the Bath Iron Works. A charismatic writer and speaker, he was noted for speeches defending the foreign policy of President Cleveland. He was the
He resigned from Congress before the session commenced, and, when he was left in financial distress, Congress appointed him to the Naval List, enabling him to draw half-pay for the rest of his life.
Boutelle had been a seaman, served in the Union Navy during the Civil War, and in 1870 became the editor of the conservative Bangor paper, the Bangor Daily Whig and Courier. He bought the paper in 1874.
He was married to Elizabeth Hodsdon.
Keywords
Boutelle Charles A., Legislators United States, Editors, Navy, Hodson Elizabeth, Bangor Daily Whig and Courier
Location
Washington, D. C.
Medium
stereo photo, stereograph
To view larger size: Download and view in your browser
Keywords
Boutelle Charles A., Legislators United States, Editors, Navy, Hodson Elizabeth, Bangor Daily Whig and Courier
COinS