Preview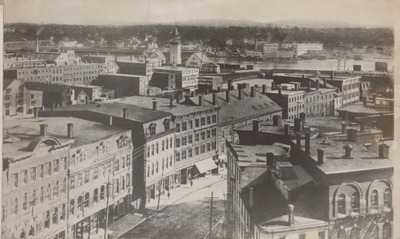 Description
A somewhat fuzzy image (a reproduction of a postcard) from circa 1907 to 1925. Image taken from the perspective of the Hersey Building i.e. Bangor's City Hall on the corner of Hammond and Columbia Streets in Bangor, Maine.
Looks out upon West Market Square, Broad Street, the Kenduskeag Stream, Penobscot River, and across to Brewer, Maine.
1907 is the earliest date this image could be because of the tower for Union Station. Union Station was completed in 1907.
1925 is the estimated late period for this image. The December 8, 1952, Bangor Daily Commercial ran this with the caption:
"View From City Hall -- Very little about the picture would be different if you took it tomorrow, but actually this post card is nearly thirty years old, as near as we can tell. One difference is noticeable -- down on the waterfront one can spy the topmasts of a schooner, and it has been a few years since any schooners, even without topmasts, have come up to Bangor. The roof of the building where Sweet's Drugstore has been located for years can be seen in the foreground. It's now a flat roof, instead of slanted, and bears a huge electric sign proclaiming the virtues of a brand of beer."
Businesses viewed through magnification include:
J.C. Towle & Co. Grain and Salt at 82 Broad. Josiah C. Towle.
On the far right can be read "Jones Celebrated Finnan" Haddie. Alfred Jones' Sons Producers of Fish was located at 140-142 Broad Street.
Keywords
West Market Square Bangor Maine, Main Street Bangor Maine 19th century, Broad Street Bangor Maine, Kenduskeag Stream Bangor Maine, Penobscot River, Phenix Block Bangor Maine
To view larger size: Download and view in your browser
Keywords
West Market Square Bangor Maine, Main Street Bangor Maine 19th century, Broad Street Bangor Maine, Kenduskeag Stream Bangor Maine, Penobscot River, Phenix Block Bangor Maine
COinS