Preview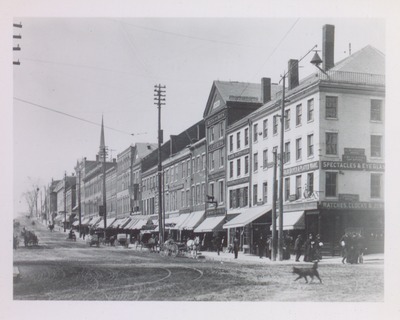 Description
Shows corner of Main and Hammond Street in downtown Bangor, Maine, circa 1890-1894.
Estimate based on the absence of the Hersey Building, Bangor's "new" city hall, completed in 1894, which would be behind in the right corner of photo.
Also, Bangor city directories assisted in narrowing in the date range.
Businesses visible by magnification include:
Adams & Strickland, crockery and glassware, listed at 3 Main Street in the 1893-1894 Bangor city directory. This in now closer to 25 Main Street. The street numbering system in Bangor changed in the early 1900s to the more modern day system. Edward C. Adams and Samuel L. Strickland. This business first appeared in the 1891 city directory.
E.J. Davis boots and shoes at 19 West Market Square (now about 23 Main). Edwin J. Davis.
Standard Clothing Co. (store has what's believed to be a cow on board above street) at 14 West Market Square (about 11 Main).
C. Hamlin (above "Spectacles & Eyeglas"), lawyer and U.S. Commissioner. Charles Hamlin.
Also above "Spectacles" J. Hutchings Law Office. Jasper Hutchings lawyer.
Above "Watches, Clocks" is C.F. Woodard Office. Charles F. Woodard lawyer.
Keywords
Main Street Bangor Maine, Bangor Maine 19th century
To view larger size: Download and view in your browser
Keywords
Main Street Bangor Maine, Bangor Maine 19th century
COinS