Preview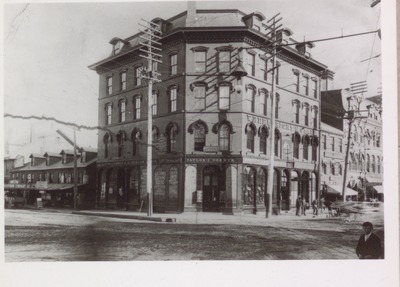 Description
The Wheelwright and Clark Block in downtown Bangor circa 1897-1903.
Magnification reveals many businesses. These include:
H.H. Patten Law Office. Hervey H. Patten 6 Broad Street. Mr. Patten first appeared in Bangor city directory of 1897-1898. This office moved to 7 Hammond Street, according to the 1903 city directory.
Oscar A. Fickett, meats, fish, and vegetables at 12 Broad.
James A. Robinson & Son, manufacturer, jobbers, and retailers of clothing. Frank A. Robinson was the son. Address listed as 34 Hammond Street, i.e. the Wheelwright and Clark Block. The 1903 city directory lists this business as the Robinson-Blake Company. Joseph G. Blake. The current location of Mexicali Blues in Bangor.
Keywords
Wheelwright and Clark Block, Bangor Maine 19th century, Hammond Street Bangor Maine, Broad Street Bangor Maine, Main Street Bangor Maine
To view larger size: Download and view in your browser
Keywords
Wheelwright and Clark Block, Bangor Maine 19th century, Hammond Street Bangor Maine, Broad Street Bangor Maine, Main Street Bangor Maine
COinS