Preview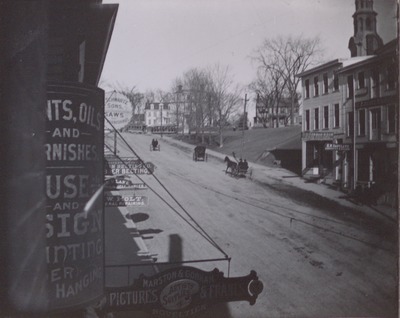 Description
Among the businesses seen by magnification are:
Heman N. Bartlett, a carpenter at 13 State Street. This would be present day about 45 Main Street.
J. Henry Wharff, also 13 State, a furniture upholsterer and repairer. Listed in the 1897-1898 Bangor city directory as having moved to Holden, Maine.
E.S. Gorham & Sons at 15 State. Edward S. Gorham.
J.N.V. Lane, a gas fitter, was at 5 State. Johnson N.V. Lane.
M. Schwartz' & Sons, saw manufacturers, machinists, and mill supplies, 5 State. This business had moved to 141 Exchange Street, according to the 1893-94 Bangor city directory. This is the primary clue as to this photograph's estimated range. Louis H. Schwartz and William H. Schwartz owners.
James W. Holt, a gunsmith, at 4 State.
Marston & Gorham at 3 State, painters and artists' supply store. Arlington B. & William H. Gorham.
Keywords
State Street Bangor Maine, Bangor Maine 19th century, Broadway Bangor Maine
To view larger size: Download and view in your browser
Keywords
State Street Bangor Maine, Bangor Maine 19th century, Broadway Bangor Maine
COinS