Preview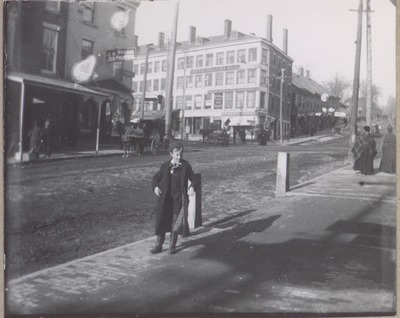 Description
This expertly dressed young man stood on State Street in downtown Bangor at the present site of 17 State.
Larger picture reveals intersection of State Street, Exchange Street, Park Street, and Harlow Street in downtown Bangor, Maine, circa 1887-1892. This date estimation based on magnification of businesses seen, and other known landmarks such as the electric poles and wiring of that period.
One business viewed by magnifying glass is Fessenden's Writing Academy. This business was in the building in the center, known then as the Granite Block. According to Bangor city directories, Charles P. Fessenden operated at this location at 2 Granite Block, East Market Square as early as 1875. The 1893-1894 city directory indicates "Sarah H., widow of Charles P."
Also seen are:
Fernald & Co. Fine Tailors at 3 Granite Block, East Market Square. Eugene T. Fernald merchant tailor. This business is listed in the 1893 Bangor city directory, but not in the 1893-1894 directory.
J.H. Bacon, address listed in directory as Kenduskeag Bridge. This is modern day corner of State and Harlow. John H. Bacon, book and job printer.
Alex M. Robinson, an apothecary, at 1 Granite Block, East Market Square.
Smyth's Billiards Hall, 2 Granite Block. Frederick G. Smyth proprietor.
Bangor Mutual Fire Insurance Co., William P. Hubbard, President, J. Herbert Boyd, Secretary, 2 Granite Block.
Keywords
East Market Square Bangor Maine, Harlow Street Bangor Maine, Park Street Bangor Maine, Center Street Bangor Maine, State Street Bangor Maine
To view larger size: Download and view in your browser
Keywords
East Market Square Bangor Maine, Harlow Street Bangor Maine, Park Street Bangor Maine, Center Street Bangor Maine, State Street Bangor Maine
COinS